December 17, 2014
Charles Manson, the cult leader who is serving life in prison for his role in the 1969 killings of actress Sharon Tate, her unborn child, and others, has been issued a license to marry 26-year-old Afton Elaine Burton. 1
Burton says that she believes Manson is innocent and wants to exonerate him.
As a family member, she'd have access to information that could help her work on his case. 2 But there are also other benefits to getting married while in prison.
Are You Eligible to Get Married While Serving Time in Prison?
California allows inmates to have family visits, where inmates can spend 30 to 40 consecutive hours with their spouse in a private apartment-like facility on prison grounds. 3 Not all prisoners are eligible for these conjugal visits. Ineligible prisoners include
Death row inmates,
Prisoners serving life sentences,
Convicted sex offenders, and
Prisoners under disciplinary restrictions.
Benefits to Getting Married While in Prison
If your loved one isn't eligible for family visits, there are still benefits to getting married. If you're married, you can get a standard tax deduction from the IRS of $12,200, which may be more than you can get as a single person. 4 You can visit your spouse in the hospital, and have a say on treatment issues. Also, you can be the protected confidante of your spouse; marriage will exempt you from testifying in court about any information your spouse tells you. Perhaps most important, marriage is a way to show commitment and support to a loved one who is going through the many hardships of being imprisoned.
How to Get Married to an Inmate
Here's how you begin the process of getting married to someone who is in prison:
Request an inmate marriage packet
Fill out the packet and send it back with the required fees
Have documentation to prove you are eligible to marry (i.e. birth certificate, ID, etc.)
Contact a Family Visiting Coordinator at the prison to arrange the wedding
Obtain a marriage license
Arrange for an approved officiant from the list of pastors the prison will provide
Arrange for somebody on your fiancée's approved visitor list to act as a witness 5
Call the Family Law Attorneys at Wallin & Klarich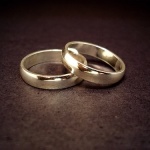 If you are considering marriage where one party is serving time, you need to talk to somebody who understands your rights and can make the complicated process of marrying a California inmate much smoother. Wallin & Klarich attorneys have over 30 years of experience in both family law and criminal defense, and we can help you understand the benefits and any possible difficulties of marrying your loved one. We will meet with you immediately to discuss your rights and responsibilities, and will help you understand exactly what you need to know to make an informed choice regarding this important commitment. We will be with both of you every step of the way through the difficult but rewarding process, and we may be able to see if the inmate is eligible for resentencing.
With offices located in Los Angeles, Sherman Oaks, Torrance, Orange County, San Diego, Riverside, San Bernardino, Ventura, West Covina and Victorville, there is an experienced Wallin & Klarich attorney available to help you no matter where you work or live.
Call us today at (888) 749-7428 for a free phone consultation. We will be there when you call.
---
1. [http://www.crimelibrary.com/serial_killers/notorious/manson/6.html]↩
2. [http://bigstory.ap.org/article/f0c4673fda064cb0b1f6eccba6420862/ap-exclusive-charles-manson-gets-marriage-license ]↩
3. [http://cdcr.ca.gov/Visitors/docs/InmateVisitingGuidelines.pdf ]↩
4. [http://www.howstuffworks.com/personal-finance/personal-income-taxes/5-tax-benefits-of-marriage.htm#page=1 ]↩
5. [http://marriage.about.com/cs/prisonmarriage/ht/prisonmarriage.htm ]↩