September 22, 2014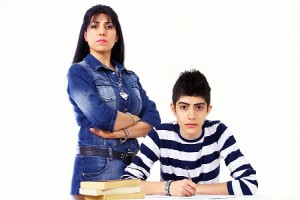 One of the most difficult aspects of a divorce is losing physical custody of a child. In a child custody case, the court could award primary or sole physical custody to one parent and the other parent will be given visitation rights. The court could also award both parents joint legal custody, which means that both parents are legally entitled to be involved in all aspects of the child's educational life and have a say in important decisions.
If you were awarded joint legal custody, you need to be aware of your rights as a parent to be involved in your child's education. The fact that you do not have primary physical custody does not mean that you have lost the right to be involved in your child's schooling. You can take some simple steps to stay involved.
Introduce Yourself to the School
The first step is to make sure your child's school knows who you are. Start by confirming that you are listed as one of the child's parents, and as an emergency contact. You can also provide the school with copies of the divorce agreement or judgment to clear up any confusion the school may have about your identity and your rights as a non-custodial parent.
Meet Your Child's Teachers
Contact your child's teachers. Introduce yourself to them and explain your situation. The more your child's teachers know about your situation, the better they can understand it. It will also help the teachers understand your child's behavior and how his or her living arrangement may be affecting schoolwork. By giving them an insight into your child's life, the teachers will be better equipped to give your child the extra help he or she may need while adjusting to the divorce.
Leave the Bitterness at Home
Anger and hostility tend to prevent people from helping when they normally would. With respect to your child's educators and the school's staff, they may be less inclined to help you if you come across as angry or hostile about your situation, especially if they feel that you are taking it out on them.
Try to keep those emotions in check when dealing with the people who are teaching your child, and avoid criticizing the child's other parent. Remember, the school's personnel can be called to testify in court in future custody proceedings, so you will want to be remembered as friendly so that the teachers and staff have good feelings about you.1
Stand Up for Your Rights
The Family Educational Rights and Privacy Act of 1974 requires that schools "give full rights under the Act to either parent unless the agency or institution has been provided with evidence that there is a court order, state statute, or legally binding document relating to such matters as divorce, separation, or custody, that specifically revokes these rights."2 This means that unless there is evidence of a specific court order or agreement that the school is to avoid sharing this information, both parents are entitled to have access to it, regardless of their custodial status. In fact, a school that makes it a policy to not share this information with a parent could be jeopardizing its ability to receive federal funding.3
Some teachers and administration officials may not be aware that parents who do not have physical custody of their children are entitled to information about their child's scholastic records, including report cards, attendance reports, and medical information.4 If you find that a teacher or school official is refusing to share the information about your child to which you are legally entitled, inform them about this law and your rights under it. If they still refuse to help, take the matter to their superior, such as the school's principal, or the district office.
Stay Connected to the School
Many schools have some type of online presence: Facebook pages for classes, email newsletters, and parental access to sites that show their child's progress reports. Monitor these sites and keep in touch with your child's teachers via email or schedule regular calls with the teacher to discuss how your child is doing.
Do Your Homework (and Theirs)
When you have visitation time with your child, make sure you know what assignments they have due and what subjects they have been studying, either by asking the other parent or the teacher. Use that time to find out what the child likes and does not like about school. Participate in the child's schooling by helping in the areas where he or she struggles when doing homework.
Contact the Family Law Attorneys at Wallin & Klarich if You Have an Issue
If you have questions about your right to be involved in your child's education, contact one of our experienced attorneys as soon as possible. At Wallin & Klarich, our attorneys have worked for over 30 years with parents who need advice and support in their child custody cases, and we are committed to helping guide you through the process. Our attorneys are available to answer any of your questions.
With offices in Los Angeles, Sherman Oaks, Torrance, Tustin, San Diego, Riverside, San Bernardino, Ventura, West Covina and Victorville, there is an experienced Wallin & Klarich family law attorney near you no matter where you work or live.
Call us today at (888) 749-7428 for a free phone consultation. We will be there when you call.
---
1. [Separated Parents Access & Resource Center, "Working With Your Child's School," available at http://www.deltabravo.net/cms/plugins/content/content.php?content.157]↩
2. [34 CFR 99.4]↩
3. [20 U.S.C. 1232g]↩
4. [Separated Parents Access & Resource Center, "Getting Access To Your Child's Report Cards And School Records," available at http://www.deltabravo.net/cms/plugins/content/content.php?content.98]↩