March 19, 2014
Child custody and visitation matters can be serious and complex matters that will have a major impact on both you and your children.  Sometimes these matters are so contentious the other parent may request that you have no visitation rights with your children, or have a restricted visitation schedule.  If you are going through a contentious child custody dispute, you should not hesitate to contact our experienced family law attorneys at Wallin & Klarich today.
Restricted Child Visitation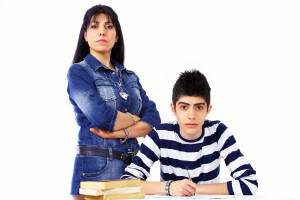 It is not uncommon for a parent to request for the family court to deny all visitation rights to the other parent.  In extreme cases, usually where there is a history of physical, emotional or sexual abuse between the parties and their children, the family court has discretion to deny all visitation to the alleged abusive parent.  In less extreme cases, the court will typically set up a restricted visitation schedule.
A restricted child visitation schedule, is a plan set by the court, whereby, the non-custodial parent will have visitation with the children. However, there are some restrictions on the periods when the parent has visitation.  Some of these restrictions include the following:
1)      The court may order that the non-custodial parent refrain from using alcohol or illicit drugs in the presence of the children and submit to random drug and alcohol tests;
2)      Where there is a perceived threat of harm to the  children, the court also has discretion to permit visitation. However, that visitation would be supervised by a third party to ensure that no harm is done to the children.
Child custody matters, including denial of visitation or restricted visitation plans, are serious matters and you should not attempt to proceed without the knowledge and experience of a Wallin & Klarich child custody attorney.
Best Interest of the Child Standard (California Family Code Section 3011)
Under California Family Code section 3011, the family law courts must make child custody and visitation orders that are in the best interest of the children.  Courts are generally reluctant to deny all visitation to the non-custodial parent, as it is the policy in California to ensure that the children have both frequent and continuous contact with both parents so long as it would not be detrimental to the children to do so.  Thus, it can be quite difficult for a parent seeking to deny all visitation rights to the other parent to achieve this goal.
However, often times in family court, the mere allegation of any type of neglect or abuse can be enough for a family court to deny or restrict visitation to the accused parent on at least a temporary basis.  Courts often use an abundance of caution in the early stages of a child custody dispute in attempts to protect the children.
In reality, it is often not in the best interest of the children to deny or restrict visitation with the accused parent when false accusations have been made, but the courts nonetheless may take caution and make such orders anyway.
Child Custody Attorneys
If you are involved in a child custody dispute where serious allegations of neglect or abuse have been made against you, call the experienced child custody attorneys at Wallin & Klarich immediately to set up a consultation.  Our child custody attorneys have over 30 years of experience handling child custody matters involving restricted visitation.
With offices located in Orange County, Los Angeles, Riverside, San Bernardino, San Diego, Sherman Oaks, Torrance, West Covina, Victorville, and Ventura, our attorneys are always available, wherever you happen to live.
Call us today at (888) 749-7428.  We will be there when you call.